Dear friend,                                                                      

We, the Board of KidsArts! Multicultural After School and Summer Program, are asking for your generous support to sustain a Jamaica Plain institution.

The Story of KidsArts!: Born in Flames
In the late 1980's, KidsArts! Multicultural Afterschool Program was born in the old firehouse now home to JP Licks.  For many years, the building was occupied by a vibrant community center devoted to the arts – the JP Multicultural Arts Center, sometimes called the "Firehouse Arts Center".   The old firehouse bustled with ballet dancers, samba drummers, photographers, jazz musicians, and….kids!

In 1993, KidsArts! found a new home in the First Unitarian Church where it still lives to this day.  As of 2010, scores of children have made monster masks, danced Capoiera, shot music videos, crafted shadow puppets, discussed social justice, and cooked empanadas (among other activities) – delving into deeply creative thinking that is increasingly marginalized in school.  Over the years, hundreds of families have enjoyed the riches of a program that was ignited by the artists/activists of the old firehouse.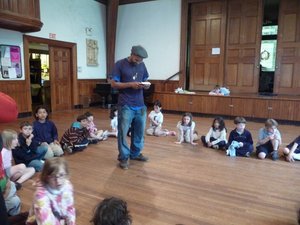 Why Jamaica Plain needs KidsArts!

Founded by local artists and unaffiliated with any larger institution, KidsArts! is the only after-school and vacation program of its kind in this area. Thirteen after school programs exist in Jamaica Plain, but only KidsArts! focuses on the Arts for elementary-school-aged kids.

Motivated by a unique respect for young people, this not-for-profit program boasts a staff of experienced artists who focus on each child and bring their vibrant talents to spark each child's journey to self-discovery.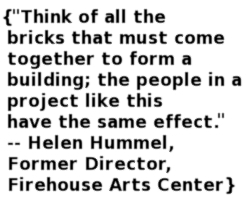 You are a brick in the architecture of our organization, and without your support we could crumble.  Your contributions buttress and sustain Jamaica Plain's most unique and independent arts program for young kids.

Why KidsArts! Needs You

Until now, KidsArts! has relied on full- and sliding scale-tuition fees and vouchers to meet its budget and to ensure that this resource is available to all area children.  But KidsArts! is currently weathering a rough storm.  The fragile economy has taken its toll.  The forecast looks critical, but your support will allow us to brace for whatever comes.

Despite today's weak economy, we are determined that every child shall have the opportunity to benefit from this unique and formative program.  In order to do so, we turn to you.



We have committed to the goal of raising $15,000 by the end of 2010, and we believe we can do it!  Any amount is welcome!  If you can contribute $50 or more, you will receive a beautiful  handmade thank-you card crafted by a KidsArts! student.

Clicking HERE will allow you to contribute through Network for Good, our online giving site. You can donate one time or as a sustainer on a regular basis.

Please do your part in fortifying our rare program. You are the brick, and our children are the creative fire that will light up our community's future!

With respect and love for children, arts, and our community,

The KidsArts! Board of Directors

Co-chairs
María Christina Blanco, Julie Smith-Bartoloni

Treasurer
Samantha Overton Bussell

Clerk
Jennifer Taub

Members
Guido Bartoloni, Kathy Brown, Harneen Chernow, Steve Clinkenbeard, Zora Garcia, Jennifer Goddard, Rebecca Hunt, Helen "Homefries" Matthews, Susan Moir, Julian Roquet, Roy Thompson, Steffi Wright

P.S. We're using email to reach as many of you possible, cutting down on our fundraising expenses and helping your contributions reach kids more directly…click HERE to support the effort!

Forward this message to a friend